Major League Baseball has been making efforts to speed up the pace of games. The World Series didn't seem to get the memo.
Game 3 of the 2018 World Series between the L.A. Dodgers and the Boston Red Sox was the longest Fall Classic game in history in both time and innings. At 3:29am ET, the Dodgers won 3-2 with a walk-off home run in the 18th inning, seven hours and 20 minutes after the first pitch.
There's been a rash of way-past-primetime World Series games in recent years. Game 1 of the 2015 World Series between the Kansas City Royals and the N.Y. Mets required 14 innings over five hours and nine minutes. The 10-inning Game 7 of the historic 2016 series between the Cleveland Indians and the Chicago Cubs needed four hours and 28 minutes (and a 17-minute rain delay). In 2017, Game 5 between the Dodgers and the Houston Astros took 10 innings and five hours, 17 minutes.
Get ready for this year's edition of long, cold nights of October baseball. Things start Oct. 1 at 8pm ET on TBS with the NL wild-card game between the Milwaukee Brewers and the Washington Nationals in D.C. The following night, ESPN airs the AL wild-card matchup with the Tampa Bay Rays visiting the Oakland A's at 8pm ET.
The best-of-five-game division series start Thursday, Oct. 3, with the NLDS on TBS and Friday, Oct. 4, with the ALDS on FS1/MLB Network. The NLDS Game 1s will feature the Dodgers hosting the Brewers/Nationals, while the NL Central champion St. Louis Cardinals are at the NL East Champion Atlanta Braves. In Game 1 of the ALDS, the Astros will will host the Rays/A's and the AL Central champion Minnesota Twins will be at Yankee Stadium to face the AL East champion N.Y. Yankees.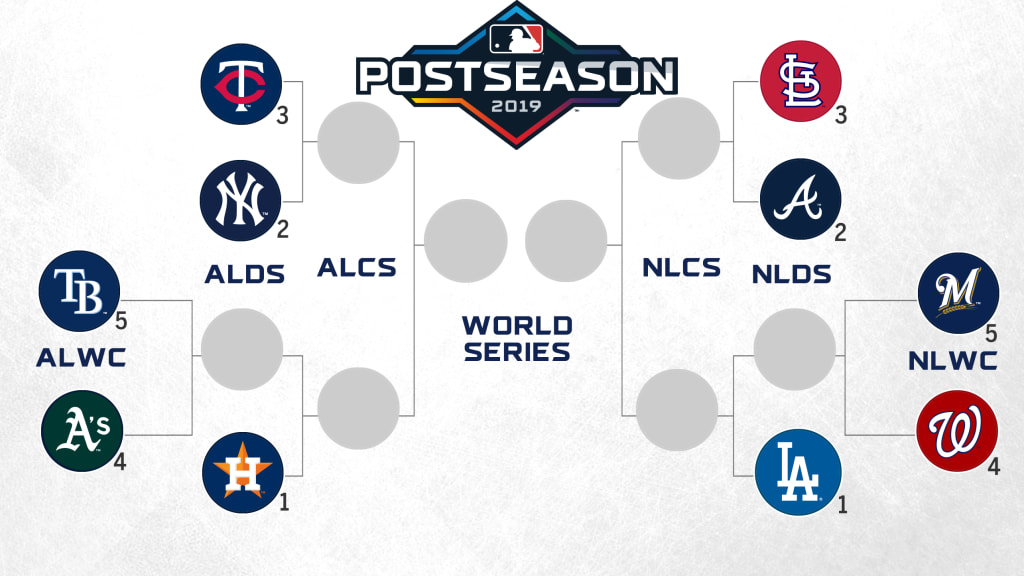 The best-of-seven NLCS airs exclusively on TBS beginning Oct. 11, with the ALCS beginning Oct. 12 on FOX or FS1.
FOX airs the World Series beginning Oct. 22, with home-field advantage in the series awarded to the team with the better regular-season record. Game 7, if necessary, is Oct. 30.
Wild-Card Games, NL: TBS (Oct. 1) & AL: ESPN (Oct. 2)
NL Division Series, TBS (beginning Oct. 3)
AL Division Series, FS1 or MLB Network (beginning Oct. 4)
NL Championship Series, TBS (beginning Oct. 11)
AL Championship Series, FS1 or FOX (beginning Oct. 12)
World Series, FOX (beginning Oct. 22)