On a brilliant early September day, acclaimed wildlife filmmakers Bob and Gina Poole await visitors on a tiny airstrip in Kenya's Mara Naboisho Conservancy. When we — 10 international journalists primed for adventure — land, there's time for quick hellos before everyone leaps into waiting safari vehicles.
There is somebody else we need to meet.
And he's a bit unpredictable.
In their specially outfitted Land Rover, the Pooles lead the caravan to a nearby stand of acacia trees. The twitch of a tail beneath one draws our eyes to magnificent cheetah Forester, a feline star of the Pooles' latest film, one of four new projects featured in Nat Geo Wild's popular Big Cat Week. Called Man Among Cheetahs, the film follows Bob and his team as they track Forester's mate Naborr, whose tireless, fearless devotion to her two young cubs' survival gives viewers a front-row seat to the beauty and brutality of life in the African wilderness.
The same wilderness the Pooles are eager to show us now.
"We're gonna be late for lunch!" the Kenya-raised Bob grins as we speed off across his beloved Conservancy, a remarkable private partnership of five ecotourism businesses and 500 Maasai homesteads created to preserve a thriving home for the cattle-farming Maasai and the endangered wildlife that roam the Mara. The statistics are harrowing. As poachers raid the savannah and the Maasai battle to protect livestock from predators, Africa's lion population has dipped some 90 percent in the last 70 years. Less than 4,000 tigers live in the wild, and cheetahs have disappeared from three-quarters of their known habitats. With the partnership's ongoing efforts, Naboisho boasts one of the largest lion concentrations in the world and is an elephant haven, both of which we gleefully witness firsthand.
Bob — an Emmy-winning cinematographer whose resumé includes work for PBS, the BBC, Discovery and more than 35 National Geographic projects — was working on another National Geographic show when he realized that cheetahs were perhaps the most mysterious and elusive of the Mara's big cats. He decided to share their plight via Naborr, a savvy, instinctive survivor who gave the group a literal run for their money.
Relaxing on the deck of Conservancy partner Asilia's rustic Naboisho Camp, Bob tells me more about his gorgeous but challenging star. "Naborr turned out to a lot more difficult because, one, she was harder to find," he grins. "It's easier to find six cheetahs than it is to find one and two little cubs. Also, she worked in a more remote part of Naboisho. We were up in this really hard, difficult country trying to keep up with Naborr — and also she was, I think, more timid. Because the cubs were smaller, she had to move around a lot more at night. With the rocky terrain and also just the skittish nature of Naborr, we lost her a lot.
"We followed her for two months," Bob continues. "It was grueling, but it was so much fun. We were getting maybe four hours of sleep at night, so we'd take turns sleeping under the car in the middle of the day just to catch up. When the cheetahs laid down to sleep, we would, too."
The effort, Bob says, was well worth it — especially when the sleek, creamy-coated beauty delights all of us with an ultra-rare appearance that assures the Pooles she's faring just fine. "She never ceased to amaze me," Bob sighs. "She wasn't wasting energy chasing animals she couldn't catch. She almost never missed a kill. We saw her go through a really hard time when it got so dry here that all the animals left and she became more desperate in terms of her hunting. Then it became more of a struggle to try to keep food from being taken by hyenas, because they were hungry, too. I watched her do amazing things."
And yes, the Pooles were well aware that their stars' survival was far from guaranteed, given the tenuous and often savage nature of life in the wild.
"Those cubs, I was invested in their lives and Naborr's life," Bob reflects. "I cared so much about them, knowing, also, that if something happened to them, there was nothing I could do. It could be all over, lights out. Of course, it's not that we wouldn't have a film then; we'd just have to make a different film. The narrative would change. But it wasn't about that, anyway. It was the cubs. It was her. You get so emotionally attached to these things. Our objective is to film natural behavior, so we're never encroaching on them. They become so accustomed to us that they don't care about us anymore. That's not ideal, but the thing is they know who you are after a little while. They know that you're just along for the ride."
The Pooles hope watching Naborr's efforts, along with the other Big Cat Week specials — an extension of National Geographic Society's Big Cats Initiative — inspires viewers to do amazing things, too.
"Donating to your favorite African conservation group or wildlife group, helping these people or just coming here as a tourist is the best thing you can do — supporting places like Naboisho Camp and Naboisho Conservancy," Bob says, noting that responsible tourism is life-changing for more than just the traveler. "When you come here, your money goes towards employing people, which helps those people lease this land to preserve it for conservation."
Man Among Cheetahs, Nat Geo Wild, Monday, Dec. 11 at 9/8c
Can't get enough of the planet's biggest cats? Mark your calendar now for these Big Cat Week films and specials, all on Nat Geo WILD:
Jaguar vs. Croc
Premieres Sunday, December 10 at 9/8c
World-renowned wildlife photographer Steve Winter and cameraman Bertie Gregory capture the rarely seen, remarkable lives of jaguars in the Pantanal of Brazil. Follow a mother jaguar as she teaches her cub survival while a determined male jaguar, appropriately named Scarface, dives headfirst into the river to tackle the deadliest of opponents – a six-foot long caiman. Clever capybaras and playful giant otters stick with their family members to avoid being jaguar dinner.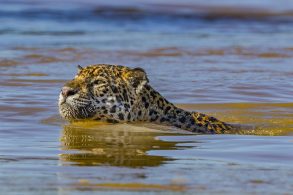 Man Among Cheetahs
Premieres Monday, December 11 at 9/8c
Here kitty, kitty. Veteran wildlife filmmaker Bob Poole sets out on a madcap adventure following Naborr, a formidable cheetah mother who is determined to keep her cubs alive. Along the way, watch him negotiate the risks and realities of filming in the African wilderness while trying to keep up with the fastest animal on four legs.. This firsthand account of a cheetah chase will have you rooting for the cats and the filmmaker.
The World's Most Famous Tiger
Premieres Tuesday, December 12 at 9/8c
Known as "Queen Machli," "Lady of the Lake," and ruler of her territory in Western India's Ranthambore National Park, Machli was a legendary tigress that went down in history as one of the most well-known wild tigers in the world. Machli—whose name is the Hindi word for fish due to fish-like markings on her face—was a beautiful and powerful tigress that played a key role in the regeneration of the tiger population in Ranthambore and Sariska National Parks. Discover the incredible stories behind Machli's rise to power and legacy.
Lion Kingdom
Premieres Wednesday, December 13 at 9/8c
Follow the dramatic story of three lion prides battling each other for territory, food and power along the Mwagusi River in Tanzania. When destiny conspires to bring the prides together, it is all out war. Why are these lions intent on destruction? This is the story of life, death and revenge.
Safari LIVE
Premieres Thursday, December 13 at 10/9c
Join us as we head back to South Africa and Kenya to revist the excitement of Safari LIVE for a special two-hour broadcast during Big Cat Week! Get up close and personal with Africa's most incredible animals — such as herds of elephants, thousands of wildebeest, prides of lions, cheetahs, leopards, hyenas, among many others. Chat with our guides in real time using #safarilive.
Savage Kingdom: Uprising
Miniseries Finale Premieres Friday, December 14 at 9/8c
In the second installment of Nat Geo WILD's hit global event Savage Kingdom, the drama continues in this volatile, cruel and brutal realm in the remote wilderness of Botswana. Established rulers continue to vie for power while new enemies emerge from faraway lands. Will the aging lion king Sekekama hold on to his bloody crown? Has the leopard prince Neo inherited enough luck from his mother to survive? Can the Pale Pack of wild dogs avoid the fate of the Pack of Twenty? How will the lions of the Northern Pride wreak their revenge on queen Matsumi? Leaders will rise and factions will fall. No one is safe in the Savage Kingdom.