Of the hundreds of best/worst of TV lists you'll see this month, Channel Guide Magazine's 2016 list easily ranks in the top 200 of those lists. And while most of us agree that 2016 wasn't the greatest year in human history, it probably also still ranks in the top 200. At least what we saw on TV in 2016 was pretty good.
Best of TV 2016
16. Guts, Gusto & Grease
FOX pulled out all the stops for its Grease: Live musical event in January, and Vanessa Hudgens rocked Rydell High with her brave, blazing rendition of "There Are Worse Things I Could Do" the day after her father died.
15. Westworld, Ho!
HBO's Westworld turned Michael Crichton's 1973 story into a chilling and thought-provoking blend of sci fi and Western that tapped into our anxiety about technology. The premiere episode was the most-watched debut for a new HBO series since 2014's True Detective.
14. Cubs Win!
Now that's how you end a 108-year championship drought. The Chicago Cubs won the Fall Classic in an epic Game 7 that will go down as one of the best in history, and gave FOX the most-watched baseball game since Game 7 of the 1991 World Series.
13. Live From Springfield
Now in its 28th (!) season and surpassing 600 episodes, The Simpsons can still surprise us. The March "Simprovised" episode featured Homer answering viewers' phone calls live, thanks to voice actor Dan Castellaneta's improv skills and motion-capture technology.
12. Sister Act
Tatiana Maslany finally won that Emmy for Outstanding Lead Actress in a Drama, and all it took was her playing nearly a dozen different characters in BBC America's thriller Orphan Black, which starts its fifth and final season in 2017.
11. These Go to Eleven
Frozen waffles, anyone? The '80s throwback sci-fi/horror series Stranger Things on Netflix was the summer's most binge-worthy series. Expect a spike in baby girls named Eleven in 2017.
10. #OscarsSoWhite
Oscars host Chris Rock's monologue on racism in Hollywood will be remembered long after we've all forgotten the Best Picture winner, which was … we forget.
9. Let It Bee
Samantha Bee staked her claim as the funniest and most fearless woman on TV with her TBS talker Full Frontal With Samantha Bee. She even had a "conversation with America's male president," Barack Obama, on Halloween.
8. The Super Bowl of Debates
The first presidential debate in September became the most-watched in history, with 84 million viewers tuning in to see a sensible discussion of important issues turn into the tragicomic immolation of intelligent political discourse in America.
7. Twists 'R' Us
NBC's tearjerker This Is Us gave us all of the feels and made a strong case for best new drama of the fall. When creator/writer Dan Fogelman didn't have us reaching for the tissues, he was blowing our minds with powerful plot twists.
6. Phelps Face
Olympians Michael Phelps, Katie Ledecky, Allyson Felix and Simone Biles kept a steady stream of national pride flowing at the Rio Games. The USA topped the overall medal chart again with 121. We're just going to leave this Phelps Face photo here.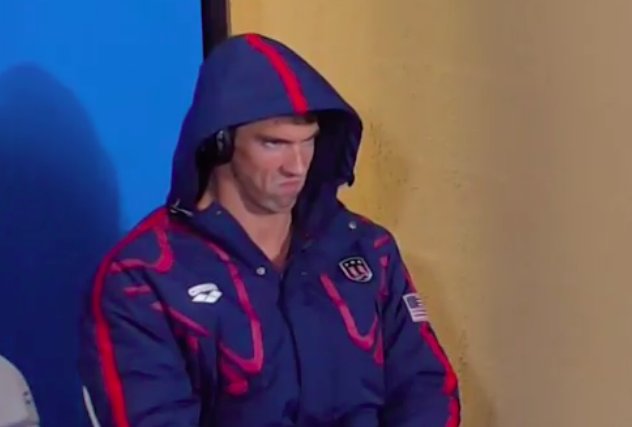 5. If It Doesn't Fit …
If you were sick of hearing about O.J. Simpson in 1994, then 2016 was not your year. Blame FX and its excellent The People v. O.J. Simpson: American Crime Story, which won Emmys for Sarah Paulson, Courtney B. Vance and Sterling K. Brown.
4. Marching to His Own Drumpf
John Oliver became the torchbearer of scathing political satire with Last Week Tonight on HBO winning the Emmy for Outstanding Variety Talk Series. Oliver was at his best skewering the sad state of journalism and launching the "Make Donald Drumpf Again" campaign.
3. Negan's Grand Slam
Despite all the grumbling about the Season 6 cliffhanger, roughly 17 million people tuned in to the Season 7 premiere of AMC's The Walking Dead to find out who got a kiss from Negan's bat, Lucille.
2. Carpoolin' With Corden
Late-night shows are mostly just wellsprings of viral videos, and James Corden mastered the art with The Late Late Show's "Carpool Karaoke" bits. Adele's rapping to Nicki Minaj's "Monster" set a YouTube record for the most-watched late-night clip.
1. Right as Reign
There was doubt about Jon Snow's fate, but there was no doubt about who ruled TV in 2016. HBO's Game of Thrones became the most awarded scripted series in Emmy history with 38, and won Outstanding Drama Series for the second straight year.
And 6 Sour Notes
These things were not so good:
6. Mean Street Sesame Workshop had to apologize for "misunderstandings" surrounding the firing "changing cast roles" of Sesame Street mainstays Bob (Bob McGrath), Luis (Emilio Delgado) and Gordon (Roscoe Orman). This apology brought to you by the letters W, T and F.
5. What Ailes You Former FOX News Channel chairman and CEO Roger Ailes resigned when more than two dozen women accused him of sexual harassment, revealing decades of intimidation and misconduct by the executive.
4. Bushwhacked After only a few weeks as an anchor on NBC's Today, Billy Bush was out of the job when his "locker room talk" with Donald Trump 11 years earlier caught up with him.
3. TLC's Willis Woes Another year, another disturbing scandal from a TLC family reality show. Toby Willis of The Willis Family was charged in September with child rape.
2. Facts, Schmacts The 24-hour news networks spent most of this ugly election year chasing ratings instead of the facts, with pearl-clutching pundits going for the hottest takes over the smartest.
1. Gold Medal in Stupid American Olympic swimmer, dimwitted dudebro and scourge of Brazilian convenience stores Ryan Lochte is an embarrassment who should be sentenced to Dancing With the Stars for life.