In Discovery Channel's Alaskan Bush People episode "Judgement Day" (June 24) the Brown family works on projects in preparation for Billy and Bam serving their jail sentences in Juneau.
Go Here For All Of Your AWESOME And EXXXXTREME Alaskan Bush People Needs!
Only 72 hours remain until Billy and Bam must report to Juneau for sentencing in their PFD fraud case. With so little time left, the Browns must focus on the most critical of concerns, such as Matt's hair. This is where Rainy intervenes with Bush Cosmetology tips. She pulls out some bladderwrack plants and instructs Matt to squeeze the slime out of the bulbs and rub it into his hair, like a Bush Hair Gel. Bladderwrack is a kind of seaweed, with a name that sounds like something that happens to a person after drinking a sixer of Old Style. Its scientific name is Fucus vesiculosus, which makes me giggle. Bladderwrack has some medicinal properties, including a substance that acts as a laxative. So that's one way of getting the crap out of Matt's head, I s'pose.
Ah, yes. Just what we've always wanted: An EXXXXTREME Montage of Bear running around being EXXXXTREME, preparing his mind and body for hunting season. He covers himself in muck to hide his stench, runs through the forest, climbs trees and practices his fish punching techniques in the stream. At last, he has elevated himself to the plane of EXXXXTREMEness required to hunt grouse.
On the subject of grouse, Billy gets the family together to remind them all that he's a Bush Martyr and they'd all be going to prison too if it weren't for his sacrifice. And maybe Bam's sacrifice, too. It's not important. What IS important is that Billy heard the first goose of spring, and that honker means that it's time to plant crops, hunt, fish, and all sorts of stuff that we've never seen Billy do. Billy says he'd like to spend his last few days before lockup in J-Town "working around here." Of course, that means he'll spend the last few days watching everyone else working around here. It's Ami's turn to read from the cue card, and she says that she wants a greenhouse. OK, then. Matty B. is on the greenhouse case.
Bear and Bam are preparing for the grouse hunt by doing a little target practice, using the trebuchet to launch milk jugs filled with what I presume is water. The Bush Skeet Shooting exercise doesn't go very well. For a bunch of guys who claim to be lifelong hunters, they couldn't hit a bull in the ass with a banjo. Finally, Bear blasts one at suspiciously close range, and then they've run out of milk jugs.
Matt, Rainy, Birdy and one of Birdy's stupid cats are building a greenhouse using the big water tanks they hauled back from Bruce of the Green Pants at Excursion Inlet. And, Good Lord, again with Matt's plastic wrap fetish? Matt says he's making a "bio-dome," which the dumbest thing since Pauly Shore made Bio-Dome.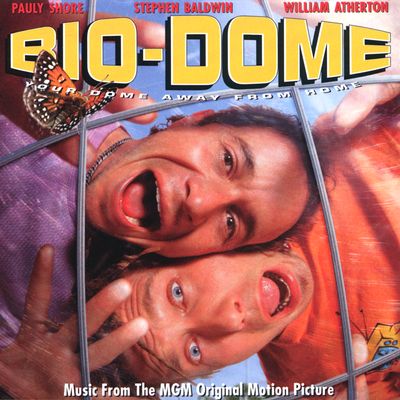 Yes, Matt's first foray into plastic-wrap construction went so well that he thought it would be great to try for an even bigger failure. Matt sets up the tanks to act as the greenhouse's main support structures, then he starts going to town on it with the plastic wrap to make the walls. "I have a mad love for plastic wrap. I see it as the medium of the future," Matt says. Well, polyvinylidene chloride, a.k.a. Saran, was invented in 1933. I think plastic wrap's time as the medium of the future came and went about 80 years ago. Matt's maniacal laughter really grates on me. It's excessive and forced. It's become his catchphrase. It's his version of Bear's EXXXXTREME.
Bear is busy cleaning his guns for the grouse hunt when Billy comes in for a consultation. Billy's worried about Bam's temper, and if Bam starts instructing other inmates to respect the danger, "he can turn 30 days into six months." Billy mostly wants Bear to take Bam out and show him a good time. So is this a grouse hunt or a bachelor party? Did they hire strippers?
Bear and Bam take the skiff to a place on the mainland called "Home Shore." And … what the hell? Their skiff has its own mini skiff? Seriously, they brought along an inflatable raft thing to get from the skiff to the shore, because apparently this newfangled skiff is a snooty prick who doesn't like to get his undersides scratched in the shallows. YOU HAVE MUCH TO LEARN ABOUT THE BUSH WAY, NEW SKIFF! Bear is going to try to get Bam to loosen up and have some fun and put some silly camouflage paint on his face. Don't do it, Bam! Once you start down the face-painting path, forever will it dominate your destiny.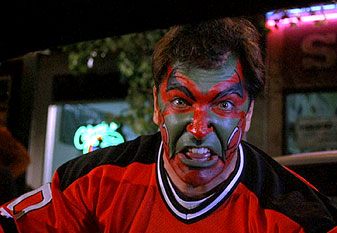 Bear asks Bam if he can remember when he last went hunting. "I was born hunting," Bam says. "I was born with a knife in one hand and a gun in the other." Oh, that must've hurt somethin' fierce for Ami. Todd, the guy with the Suzuki Samurai that the Browns hauled away earlier this season, is letting Bam and Bear borrow his ATV for the grouse hunt. And we have yet another vehicle just sitting around that the Browns get to borrow.
Meanwhile, back at Brownton Abbey, Matt is busy stretching plastic wrap and our tolerance for B.S. to their very limits. There's a big clear plastic tarp that Matt, Birdy and Rainy pull over the top for the greenhouse's ceiling. Does this thing have a snowball's chance of surviving the first rainstorm or even the slightest bit of wind? Matt puts the finishing touches on this mess, joining a bunch of plastic drinking straws together to make some kind of roof-drainage/irrigation system. Matt's also rigged up tubes to bring water from the roof to fill up the tanks, which will provide additional irrigation. We're only given a few quick close-up glimpses of this thing in action. Fortunately for Matt, it only has to work once for the cameras. Billy and Ami are just tickled to death with the greenhouse and all of the tomatoes and peppers it shall bring forth to be made into Bush Salsa. Realistically, the greenhouse will be destroyed before the first seeds even sprout. But I think Matt could use a little encouragement, since it sounds like he's got some rough sailin' ahead.
Let's check on Noah, because why not? Noah is building a Bush Washing Machine that will be about as useful as his Bush Clothes Incinerator from last season. Noah has come down with Noah Brown Syndrome, and he has some tendonitis in his hand, so Gabe will assist Noah in completing the project. You know your life has gone off the rails when you're stuck being Noah's lackey. So what's this big wooden platform thing they're putting the Bush Washing Machine on? Is that the old Bush Shakespeare Theater Stage from a few seasons back, or is that new construction? If it's new construction, what a waste.
Bear and Bam haul down the logging trails in the ATV to get to the prime grouse hunting grounds. Bear convinces Bam to put on three stripes of camouflage face paint. There's no turning back now, Bam. I'm afraid this is the end…
Bam and Bear are getting skunked on the grouse hunt, which gives Bear plenty of time to share his wit and wisdom on grouse hunting. "Normally we don't actually hunt many grouse because they're so small, and we prefer to hunt the bigger predators [sic], y'know, 'cause when you're hunting to actually feed your family, it's better to go for the bigger prey," Bear explains. Bear is also an expert on the mating rituals of grouse and the mispronunciation of "similar." "Grouse have a very simular method that I use," Bear says. "See, when grouse are looking for female grouse, they'll climb up nice and high in a tree and start calling like howling to all the females around to let them know that they're there. So it's very simular to how I do, but most grouse are a little more successful." Bam doesn't really care about the difference between hunting the male and female of of the species. "I'm an equal opportunity killer," he says, psyching himself up for doing some hard ankle-monitoring time. Bam and Bear don't kill grouse of any sex, though. I guess I'm impressed that the producers didn't show Bam and Bear with 20 dead grouse that were shot by one of the Skaflestads.
LOOK! It's the Black Screen of Fake Doom! Except this Black Screen does not herald fake doom, but news of the possibility that Billy and Bam could serve their sentences with monitors instead of behind bars. But Brownton Abbey is too remote for home monitoring, so they're still going to have to serve time in Juneau. [Sad Trombone!]
The Bush Washing Machine is near completion. Noah hooks up an electric motor to a bicycle chain that rotates a bunch of pipes that cause the "agitator" to pound the soaking, soapy clothes like a one-armed Bear punching a salmon. The whole thing works as poorly as blueprinted. I wonder if Noah put a rinse cycle on this thing. "Besides your occasional fumbles, you are the perfect Igor," Noah says, damning Gabe with faint praise. "We're one step closer to being Browntopia," Noah boasts. I like to think of it as you're one episode closer to cancellation.
Matt's alone at his house eating canned dog food when Billy hobbles in. Billy's concerned about Matt. "He's just got a look in his eye like something's bothering him," Billy tells us. Billy says Matt's been going into town a lot more and staying later. Matt says he has a lot on his mind and hasn't been sleeping well. "Dad's worrying about nothing," Matt says. "It's fine. I got this." We know that Matt had some prior issues that involved alcohol and a demolition derby in a Walmart parking lot in Juneau. I think Matt was always so weird that people just assumed he was hopped up on goofballs. Rumors spread that Matt had entered a rehabilitation facility, which would be the next step in the natural progression of his reality TV "fame." I don't know where they plan on going with this story arc. I don't know if Matt's problem is real or it's being played up for the cameras like everything else Matt does. All I know is that it's not funny, and I hate stuff in this show that I can't make fun of.
It has finally arrived. Judgement Day!
[DIGRESSION! I am not a fan of the superfluous "e" in "judgement," but that's how they titled this episode. I die a little inside every time I have to type it.]
Before the Brows leave for Juneau, they've got to rig up all the futile defenses against marauding bears. Matt sets up some tripwire around his house that is supposed to trigger a sad little flare gun. Noah rigs up his little police-light alarm system at the main house. And then they have Gabe take a chainsaw to cut off the stairs leading up to it. WHAT? Seriously? Even I think that's a little EXXXXTREME. "If they can't walk up the stairs, they can't get in the house," says Billy. And if the producers would stop leaving large quantities of raw meat in the house, the bears wouldn't want to go in there in the first place.
The rest of the episode is just long, drawn-out sulking, sentimental nonsense and howling. Billy instructs everybody to remain exactly as they are until he gets back. "We're the Browns. Just be the Browns. We'll be fine," he says.
Yep. They'll be just fine.
Look who my friend Mark found at LAX. #alaskanbushpeople pic.twitter.com/3LtoEOkh6S

— Josh Boxer (@JoshBoxer) June 20, 2016
There's no new ABP next Friday because of Shark Week. Thank the Good Lord, because I need a break from this crap. If you'd like to check out recaps from the days of yore, here's last year's special ABP Shark Week recap.