After developing a massive worldwide following in WWE, Rey Mysterio Jr. has returned to his roots in Mexico and AAA.
The top lucha libre promotion continues to make strides in expanding its reach by offering Triplemania 23 to audiences in the United States and Canada live on pay-per-view. AAA's biggest show of the year on Aug. 9 will feature a first-time ever showdown between Mysterio and Myzteziz.
Since leaving WWE, the masked superstar has enjoyed his freedom.
"I think that was the main focus regarding my departure from WWE is first off to have my own time," Mysterio said.
"I wanted my family time before anything else. Family to me comes first, especially now in this stage of my career. I knew that I wasn't going to have a strong commitment to another company if I was going to sign with someone else. I wanted to do something on my own terms and call my own shots. That time came. I'm doing a couple of events for AAA and independent work. Not too much wresting, but signings and appearances. I think the second major factor in this is I have been on the grind doing this for 25 years. So my body needed to rest without a doubt."
The last few months have been an experience of discovery for the masked superstar. Through his travels he is able to see the current crop of talent making waves. This includes AAA, which has evolved drastically since he first worked there as a teen.
"A big part of WWE is you disconnect yourself from the wrestling around in general, at least in my eyes and my mind," Mysterio said.
"When I came home, all I wanted to do was be around my family. Being on the road, it was wrestling time. I realized AAA has changed throughout the years. I would find out through Konnan, who is a close friend and big brother, about the changes made in AAA and the new stars arriving that he had found. Now that I'm in there and actually in the ring wrestling against them and sometimes partnering up with the future of Mexican wresting, you realize there is a lot of great performers out there.
"Speaking of AAA in general, they have really changed in the fact they want to be this global company. They are taking big steps to making that happen. We had the Lucha Libre World Cup happen and began an association with Paramount Pictures in Mexico. This has opened up avenues for AAA wrestling. It's a good thing. It's a good thing for everyone."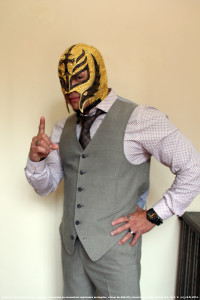 Many of the top stars from AAA have also appeared on Lucha Underground, a series that began airing last year on El Rey Network. Similar to Triplemania, the commentary is done in English and has exposed American viewers to this style of pro wrestling like never before. Mysterio helped put lucha on the map beginning in the early 1990s. Although he was small in stature, he was big in heart and ability. The people gravitated to that. The San Diego native is proud of the buzz he helped create and inspiration he gave to others.
These days the performer is selective when he decides to lace up the boots, which makes the 40-year-old's appearances all the more special.
"I may wrestle once or twice a month," he said. "I think I owe that to my body in general and to my family. They really missed out from having a father and husband at home."
Mysterio's reemergence in AAA has gotten a warm reception from those who have been stayed with him every step of the way. He will never forget the reaction after winning the Lucha Libre World Cup with Myzteziz and El Patron Alberto in May.
"You have fans in Mexico who also watch WWE events and others who are just loyal to the brand," he said. "They watch only AAA. This event was incredible. The welcoming that was given to me that night was incredible. AAA was the first company to give me the opportunity to perform on a national stage. They helped people find out who Rey Mysterio was. Four years in the beginning I spent wrestling with AAA and then I was gone the last 15 or so. To come back and still feel welcome, it's been like home. It was part of me from the beginning. To come back and perform for the fans who supported me and are still around. It was an incredible gesture on their behalf to receive me in such a positive way."
Memories start flooding back to the exciting performer who became one of the most famous masked wrestlers in history. The When Worlds Collide pay-per-view in 1994 was a foot in the door for lucha libre as a way to enter the living rooms of new fans. Since then AAA is enjoying new success thanks to technology and a broader focus.
"A lot of fans never had a chance to see lucha libre for the first time," Mysterio said.
"Back then you didn't know that would be the future of pro wrestling in the United States and worldwide. It caught on. After being in WCW for a couple of years and displaying that type of wrestling. I think that paved the way to recognize lucha libre with the heritage of the mask, the outfits. It wasn't just a sport, but a culture introduced in the United States and worldwide. I feel honored to be able to represent my country and heritage, my uncle and all of my supporters with this brand that has skyrocketed more than I could ever imagine."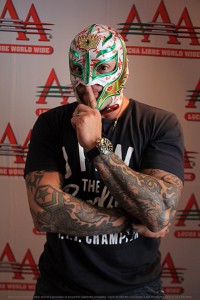 Those who aren't familiar can liken Triplemania to the pageantry and presentation of WrestleMania.
"Every year they like to close out the year and begin a new series of characters, stories and surprises on this stage, which is the biggest stage of lucha libre. I was at the first Triplemania held in Mexico City. That was very historical to me. I was part of it and now I'm able to come back to be part of the event's legacy again. Now spotlight it globally, so fans in United States and beyond can watch it. I think if you ever had a curiosity of lucha libre, this is the time to check it out."
Although they were partners in the World Cup, Mysterio and Myzteziz will find themselves on the opposite sides of the ring at Triplemania. Myzteziz, formerly Místico, became a major name in lucha and worked as the original Sin Cara in WWE. There was talk about a match between the two, but it never happened until now.
"I think there is a lot of similarities and comparisons to me and him," Mysterio said. "There is a certain similarity with the style. Here is where the rumors take place with the contact lenses. There were rumors he had said I was copying it from him. At the end of the day he is a great performer. I admire him for his skills. I think once Mexico had stars taken away from AAA like Psicosis, Juventud Guerrera, Konnan and myself. We all took our careers into WCW and many in WWE.
"This new star was born. Now there is talk who is better. It's a dream match. After all the gossip and rumors, this match is finally happening. It's due to the fans that saw something in each of us. It's time to show who is the best."
Along with pro wrestling, the former world champion is looking to branch out into movie and television projects. He is also open to maybe making a splash in the comic book world.
"At this point they say I've done it all, and I think I have in pro wrestling," he said. "That is satisfying. Am I hungry? Yes. Any new opportunity that comes my way, if I feel I have interest in doing it, then I will shoot for it…I would rather say I failed trying than I didn't try and pushed it to the side."
————————–
Photos Courtesy: AAALucha.com