Do the Alaskan Bush People get paid? We asked! Read our interview with the Brown family.
AWESOME and EXXXTREME news: #AlaskanBushPeople are back for Season 3 on Nov. 11! https://t.co/csWIiiibrP pic.twitter.com/pVaPOVz4cS

— Ryan Berenz (@ChannelGuideRAB) October 22, 2015
Alaskan Bush People Season 1 Recaps: Episode 1 | Episode 2 | Episode 3 | Episode 4 | The Wild Life
Season 2 Recaps: Episode 1 | Episode 2 | Episode 3 | Episode 4 | Episode 5 | Episode 6 | Episode 7 | Episode 8  | Wild Times | Episode 9 | Episode 10 | Episode 11 | Episode 12 | Episode 13 | Episode 14 | SHARK WEEK! | Episode 15 | Episode 16 | Lost Footage | The Wild Year
NEW! Is Alaskan Bush People Fake? Does It Matter?
Viewers of Discovery Channel's Alaskan Bush People have been wondering if the four episodes of the Brown family's adventures in the wilderness are all they're going to get. The new show Siberian Cut takes over the Tuesday night time slot and no new episodes of Alaskan Bush People are currently scheduled.
[Update: A new episode of Alaskan Bush People, titled "The Wild Life," premieres Sunday, June 15, at 10pm ET/PT on Discovery Channel. Based on the show's description, it sounds like it might be a highlights/recap/additional unaired footage type of show: "After facing unparalleled obstacles, the Browns reflect on their past year of living in the Alaskan Bush while providing surprise revelations about the family's lifestyle."
Last seen, the Brown family suffered another setback as the boat they were using to scout a new home in southeast Alaska hit an object, took on water and sank at the dock. The family made it off the boat safely, but were left with an uncertain future.
They can't possibly let the show end like that, can they?
Well, the news here is that there is no news. According to a Discovery Channel spokesman, the network has not announced whether or not Alaskan Bush People will be returning.
As for the Brown family, all nine of them were in Los Angeles in January for the Television Critics Association Winter Press Tour and were on a panel to promote the show, which at the time was scheduled to air on Animal Planet. (So no, they didn't starve or freeze or anything after their boat went down in Episode 4.) You can learn more about them and see some pretty interesting photos of the family at their official website. Also, do read this article by Zaz Hollander of Alaska Dispatch, who did some investigating into some of the behind-the-scenes aspects of the show that have been debated in these recaps.
At the panel, Billy Brown summed up the origin of his family's Alaskan adventure as well as how the TV show came into existence:
"I was born in Fort Worth, Texas, and my family died when I was 16, and I kind of hit the road. When Ami and I got together, we traveled all over the place, and we found that as we were going places, we never were really content where we were. We kept getting we'd go to the country, and it wasn't really enough country. We kept getting deeper and deeper in, and then, when Alaska opened up to us, it was like a it was like a ready made home to us. And when we got up I have written children's books for my kids and stuff and a book about my life, One Wave at a Time, and our guys went in when you go to the harbor shacks and stuff, we get Internet every once in a while, and our guys went in, Bam especially, and he put a website for the kids' books. And through that, a guy got in touch with us, and we ended up here. And I am the one that didn't want to come. …
This is, you know, not what we had planned. We spent 30 years of our lives trying to stay as far away from this kind of stuff as we could, and people. And we discussed it a lot, and I guess … it was Ami that really talked me into it more that we thought it would be cool if people could really see how we live because I don't think you guys know people who really still live that way, because it's not a movie. It's us."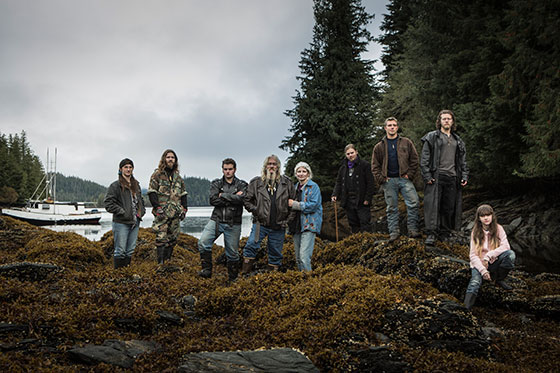 Photo: Credit: Discovery Channel