RuPaul's Drag Race Season 6 episode 3 begins as expected. While the showdown between the 2 halves of the cast was set, what followed was "Hi Gurl! What's your name?" You didn't expect them to stay standoffish for long, did you? Besides, now it's time for the passive-aggressive bitchery to begin.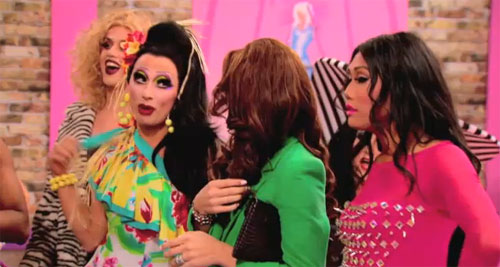 Oh, Bianca Del Rio, give it to Gia Gunn. Give it good.
Didn't appear like anyone from one team knew someone from the other team ahead of time, which makes sense if Ru is trying to set up a rivalry between the two. It would've been fun had their been a repeat of the Alyssa/Coco rivalry, but I don't think we'll be blessed with that kind of relationship for awhile.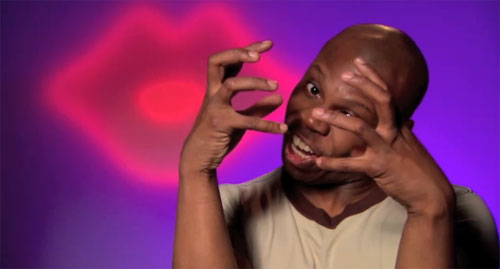 The mini-challenge is 2 queens teaming up as 2 halves of a bikini girl to sing to Ru's Click Clack (Make Dat Money). Does anyone else notice the lack of tucking on the bottom halves? Shouldn't that be part of the challenge? The tops have to put on, well, a top and some makeup. There was some serious snakes in the milk, ok….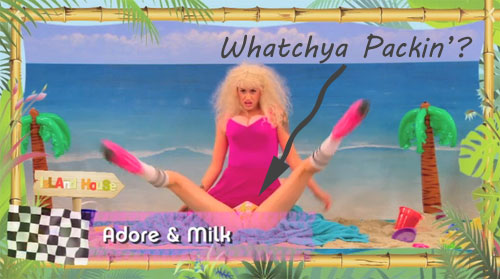 When the 2 queens team up, of course they are paired with girls from the other group. The winners of this mini-challenge are Milk and Adore Delano. These 2 winner queens get to pick other queens to be on their team for a horror acting challenge. Of course, Adore picks everyone from week 1 and Milk picks all of her girls from week 2. It's not like they've gotten to know the other girls yet, give them some time.
Dissent begins early on team Adore – she assigns roles and some queens whine about it. Gia doesn't know what a DeLorean is. *Sigh.* Maybe she doesn't care about cars, but it's a pretty iconic symbol of the 80s. Get it together girl & know your 80s cause you sometimes dress like you're living in them. Even though she never did. Now I realize she was born when I was graduating high school & going to college. Now I feel like I have to spank her.
Team Milk seems to get along better but apparently they've given the largest role to Trinity K Bonet. Trinity doesn't know how to act. She flat out tells the other girls that she doesn't know how to act. And when we see her scene it's really true. Girl can't act. Joslyn Fox is much funnier than I expected, which makes me think she's not a dumb as she seemed in the first episode.
Team Adore comes off as a hot mess. Girls don't know their lines or they're stepping on other queen's lines. Do not get rid of Adore yet!
Back in the workroom, Bianca Del Rio and Trinity K Bonet get into it. Trinity wants to be Beyonce in Las Vegas. Vivacious and Bianca try to bring a little reality her way. Trinity isn't really hearing it though. I like Trinity, but the other girls were bringing up good points that she doesn't really look like Beyonce, and that's kind of essential. Let the other girls give you advice, Trinity. You're beautiful & talented, but you really don't look like Beyonce.
Time to view the horror movies on the runway. Who is the smaller woman that electrocutes everyone? Am I doing a dumb because I don't know horror movies? Why couldn't one of the drag queens have taken that role? Feel free to clock me below if I should know who this person is.
Team Milk wins the challenge and Darienne Lake wins this week for giving great head in a pink furry box.
That means Team Adore is on the bottom. BenDeLaCreme and Laganja are the only two girls that get good feedback. Adore gets read for being unprepared. Vivacious was not vivacious as the talking head at all. Poor April will never be butch and Gia was meh.
In this week's bottom two are Vivacious and April Carrion. These two definitely know how to bring a lip synch for your life. They were both better than any of the girls that have come before them, far more energy. But unfortunately one must go home, and this week, that's Vivacious. Sorry club kid. I wish she had stayed longer. I also wish we could've listened to Vivacious and Milk talk about their kind of drag. It's up to Milk to keep it weird this season.
Update: Advocate.com has a nice interview with Vivacious about her experience.
Were you happy with the judge's decision? Sound off in the comments below!