"What happened to Style network?" will be the question of the evening when Esquire Network officially takes over the the 15-year-old network on Monday, Sept. 23 at 9pm ET with the premiere of Esquire's 80th. Still in question is whether new episodes of Giuliana & Bill, Jerseylicious, Big Rich Texas and Tia & Tamera will find a home on any of NBCU's other networks. Some of the shows are expected to simply end their run, while a few will most likely be worked into schedules on E!, Bravo or Oxygen.
UPDATE: Style Network TV to relaunch in Fall 2014! See feature.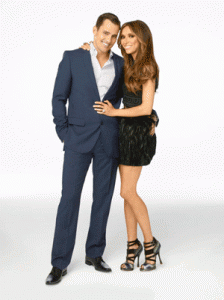 E! did confirm plans of airing the most recent seasons of Giuliana & Bill and Tia & Tamera starting in October. E! will begin re-airing Season 3 episodes of Tia & Tamera and already aired episodes of Giuliana & Bill's sixth season on Tuesday nights starting Oct. 15 at 9pm ET, as well as new episodes of Giuliana & Bill next year. Season 3 of Tia & Tamera actually ended on Style Sunday, Sept. 22, and it's unknown whether the series will see a fourth season. Oxygen will also be airing a 10-episode marathon of Season 3 of Tia & Tamera beginning Thursday, Sept. 26 at noon ET.
Syndicated series on Style, like Sex and the City, which originally ran on weekends, are interspersed heavily throughout the Esquire schedule, helping fill early morning, late-night and weekend time slots for the new net. Sex and the City, however, is littered all over the NBCU nets — you can catch it on E!, Oxygen and Bravo.
Clean House, which aired for nine seasons on Style, will also show up on Esquire — at least for the first week — filling the Wednesday, Sept. 25 morning block from 6am to 3pm ET.
At launch, Esquire had several original series including Knife Fight, Brew Dogs, Boundless and The Getaway. Similar to Style, Esquire will also help fill its programming schedule with blockbuster movies. The first few weeks, viewers of Esquire can expect titles like Ocean's Thirteen, Casino Royale, Ghost Rider and Stripes, as well as popular series from Bravo like Million Dollar Listing, Chef Roble and Top Chef, and USA Network series like Psych and Burn Notice.
We will update you with further details on other former Style series as they are announced.