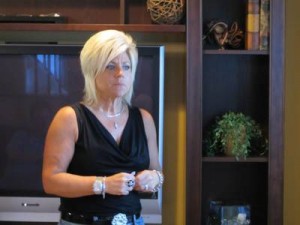 Theresa Caputo, the star of TLC's series Long Island Medium, says she was 28 when she was first introduced to the possibility that she was a medium. It took another five years for her to actually accept her gift.
"There's a big difference from when I accepted it to who am I?" Caputo told us. She said she struggled with feeling, "I'm no different than anybody else. Why was I chosen to do this? Why is this my journey?"
The aftermath of 9/11 left her with clarity and a feeling of  purpose for what she calls her role in the physical world. Now Caputo spends her days and nights taking her clients on an emotional and spiritual journey with the afterlife. She helps people find closure and/or reconnect some with loved ones who have passed.
UPDATE 2/1/2013 – The BEST way to contact Caputo is through her new website: www.theresacaputo.com
Her phone number that was previously listed here is no longer in service, so we removed from the post. When we last talked to Theresa (January 2012), she told us the best way to reach her is via her new website at www.theresacaputo.com. This was an update to what TLC previously provided (Longislandmedium@gmail.com). That email address we have tried and have never gotten a response. Her wait time is over two years at this point, due to the popularity of the show.
Surprisingly, Caputo has built her career on word of mouth only and has done little to no marketing. When asked if she's ready for what a TV series will bring as far as popularity, Caputo says: "Absolutely not. I still think this is like a school project. It's so not reality yet for me. My life is overwhelming as it is, as of right now, my waiting list to get an appointment is… I don't have any availability until January 2013."
RELATED: Theresa Caputo does a Priceline commercial