Updated Feb. 13, 2013, 9:10am CT
CNBC and USA Network will once again have live coverage of the famed Westminster Dog Show, now in its 137th year in 2013. In the past, the two networks have split coverage on opening night of the show, with CNBC picking up the last two hours so USA could flip over to WWE Raw. This year, the networks are perhaps trying to head off any confusion and loss of viewers that switchover may have caused by simply giving CNBC coverage of the entire Opening Night on Feb. 11, and having USA Network take over with coverage on Closing Night, which includes the crowning of the 2013 Best in Show, Feb. 12.
RELATED: DAVID FREI TALKS ABOUT THE 2014 WESTMINSTER DOG SHOW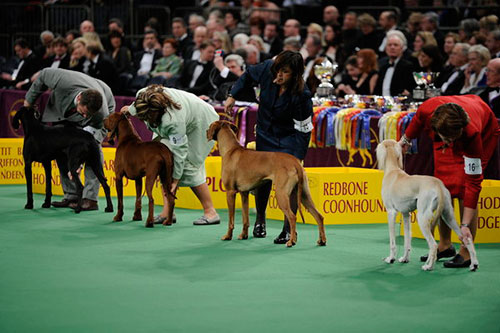 Established in 1877, the Westminster Kennel Club is America's oldest organization dedicated to the sport of purebred dogs. The Westminster Kennel Club Dog Show is America's second-longest continuously held sporting event, behind only the Kentucky Derby.
A total of 2,721 dogs were entered this year in the Westminster Dog Show, representing 50 states and seven countries. This year, two new breeds officially recognized by the American Kennel Club will make their debut at the Westminster Dog Show — the Treeing Walker Coonhound, which will be part of the Hound Group competition on Monday's Opening Night; and the Russell Terrier, competing in the Terrier Group on Tuesday's Closing Night.
The 137th Westminster Kennel Club Dog Show will be held at Madison Square Garden in New York City. David Frei co-hosts with Mary Carillo, and Carolyn Manno is a sideline reporter.
2013 Westminster Kennel Club Dog Show Schedule (All Times ET; West Coast telecast is delayed for your time zone)
Opening Night: Monday, Feb. 11, on CNBC (8-11pm): Hounds, Toy, Non-Sporting and Herding Groups
Closing Night: Tuesday, Feb. 12, on USA Network (8-11pm): Sporting, Working and Terrier Groups; crowning of 2013 Best in Show
Replays: Opening Night replay: Feb. 12, 8-11am on USA Network; Closing Night replay: Feb. 13, 8-11am on USA Network
Live Breed judging videos are also available online throughout the day on Monday and Tuesday, Feb. 11 and 12, on the Westminster Kennel Club website, and will be available after the show, according to the site.
UPDATE 2/13/13: Banana Joe (full name: GCH Banana Joe V Tani Kazari), an Affenpinscher, was named Best in Show at the 137th Westminster Kennel Club Dog Show. Reserve Best in Show was awarded to Bugaboo's Picture Perfect, an Old English Sheepdog.
_____________________
© NBCUniversal, Inc. Credit: Anthony Behar/USA Network